Serie FS-GM
Interruttore di prossimità di indicazione a LED bicolore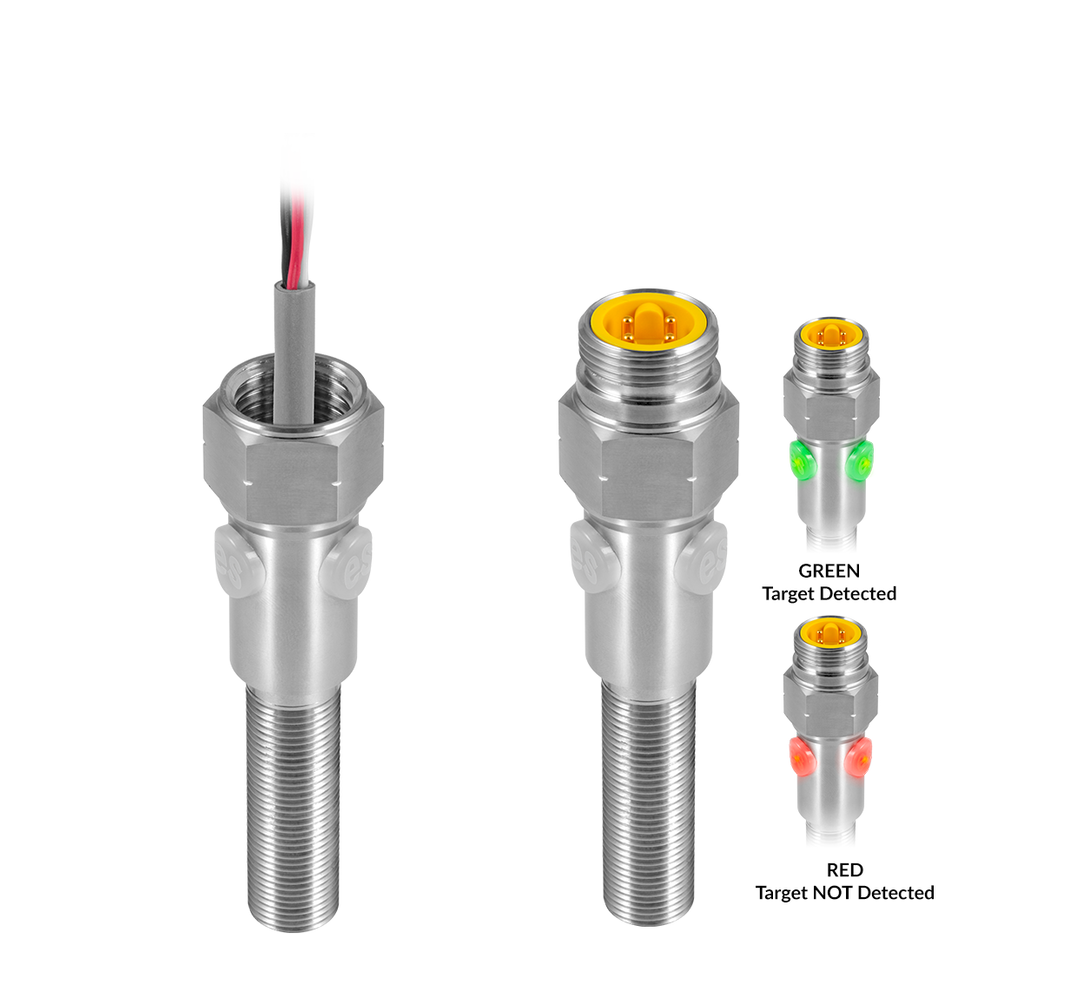 | | | | | | |
| --- | --- | --- | --- | --- | --- |
| Magnete n. parte | MA-1S | MA-2S | MA-3S | MA-4S | MA-7S |
| Intervallo di rilevamento in mm (") | | | | | |
| Schede tecniche magnete | | | | | |
Documenti da visualizzare/scaricare
Panoramica della serie
The FS-GM Series Proximity Switch (M18 UNF Thread) is highly versatile and can be used in a multitude of applications where LED indication a reliable signal is required. Utilising proven magnetic technology enables them to sense ferrous material, such as carbon steel or stainless steel (17/4 or 400 series) at up to 2.5mm (0.1"). Volt free SPCO/SPDT (Form C) contacts as standard with the ability to use as Normally Open or Normally Closed devices. Options are available with Red and Green LEDs. They are able to handle supply voltages from 24VDC to 120VAC. The minimum supply current of of 50mA is recommended to ensure maximum brightness of the LEDs (although the switch will continue to function satisfactorily at lower currents), and the unit is able to handle a maximum supply current of 250mA.
The FS-GM Series is available hardwired or with V2 or V3 Mini-Change Quick Disconnect connectors.
La serie FS-GM è coperta dalle seguenti certificazioni per aree pericolose.
| | |
| --- | --- |
| Non-Incendive: | UL/CSA (Class I, II & III, Div2) |
| Intrinsecamente sicuro: | IECEx & ATEX Ex ia (Zona 0 e Zona 20) ¦ UL/CSA IS (Zona 0) |
The FS-GM series proximity switches meet the requirements of IEC 61508:2010 Routes 1H & 1S with Systematic Capability (SC3) as an element/subsystem, and are suitable for use in safety-related systems performing safety functions up to and including SIL 2 with HFT=0 (1oo1) and SIL 3 with HFT =1 (1oo2).
Forma corpo

Cilindrico con indicazione a LED

Materiale corpo

Acciaio inossidabile 316L

Disposizione contatti

SPCO / SPDT (Modulo C)

Materiale contatto

Palladio-argento

Corrente max

250mA

Ingresso condotto

M20 x 1,5

Terminazione

Cablato

Classe di temperatura (T Rating)

T6

Temperatura di esercizio

da -40°C a +60°C / da -40°F a +140°F

Pressione nominale faccia di rilevamento

2000 psi / 138 bar

Protezione ambientale

IP 66, 67 & 68 (24hrs at 30m)/ NEMA 4, 4X, 6 & 6P

Classificazione di sicurezza

SIL 2 / SC3

Filettatura di montaggio

M18x1.0 (52.56 mm / 2.07" long) c/w 2 x locknuts

Intervallo di sensibilità con magnete

< 12 mm (0,47")

Intervallo (obiettivo ferroso)

2,5mm|0,10"

Ripetibilità

Circa 0,05 mm (0,002")

Tempo di risposta

8 ms

Differenziale/Isteresi

< 0,51 mm (0,020")
Certificazione
Gruppo gas
Temperatura di valutazione
Conformità
Certificato n. (fai clic per scaricarlo)
Livello di integrità di sicurezza (SIL) 
N/A
N/A
IEC 61508:2010; SC3 ¦ SIL 2 con HFT=0 (1oo1) e SIL 3 con HFT =1 (1oo2)

FSP18015
Tutti i nostri prodotti sono disponibili anche per una posizione normale/applicazione industriale generale.
Seleziona la tua certificazione e il tuo concept di protezione per il tuo requisito specifico dal Builder del numero di parte di seguito
| Document | Language |
| --- | --- |
| Istruzioni per l'installazione e il funzionamento |  English |
| Istruzioni per l'installazione e il funzionamento |  Spanish |
| Istruzioni per l'installazione e il funzionamento |  Italian |
| Istruzioni per l'installazione e il funzionamento |  German |
| Istruzioni per l'installazione e il funzionamento |  Russian |
| Istruzioni per l'installazione e il funzionamento |  Portuguese |