FSсерия -GM
Двухцветный переключатель близости индикации СИД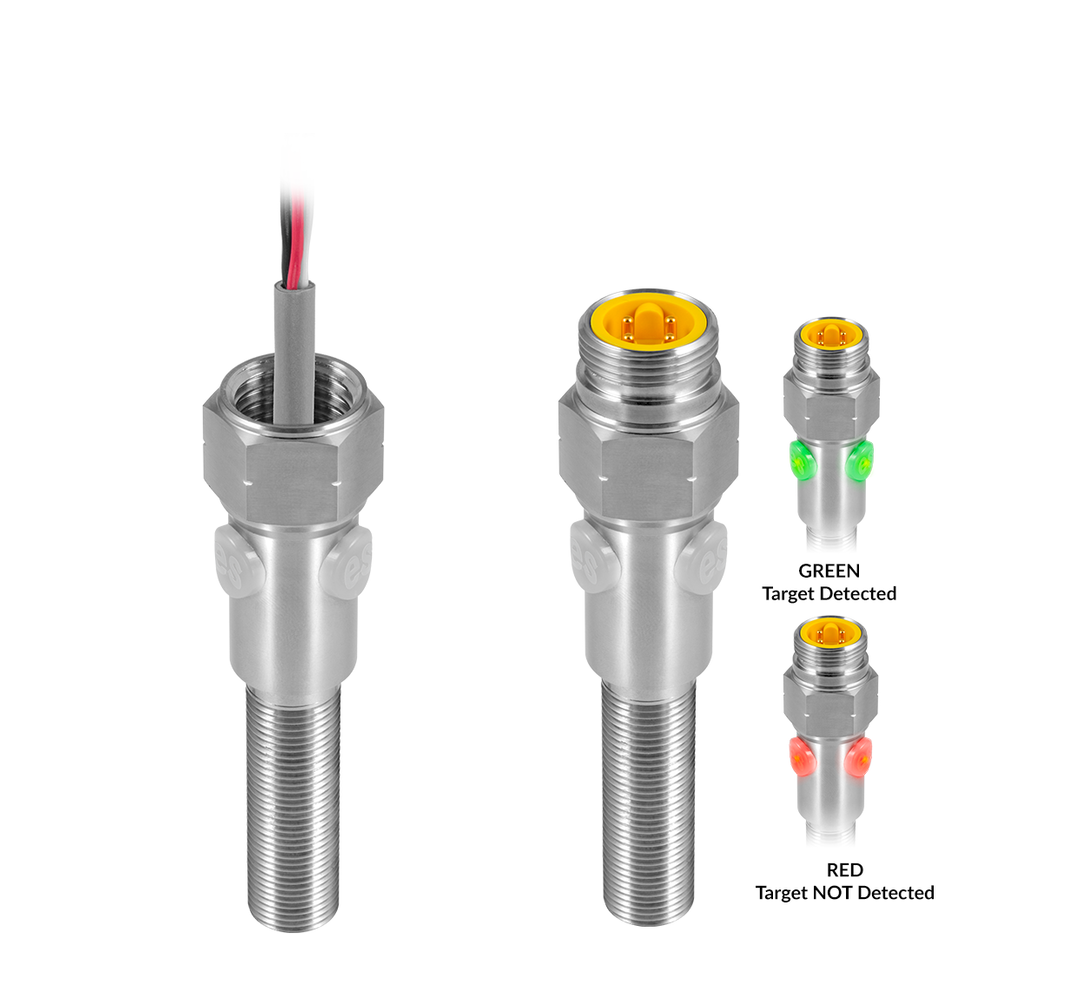 | | | | | | |
| --- | --- | --- | --- | --- | --- |
| Магнит, дет. № | MA-1S | MA-2S | MA-3S | MA-4S | MA-7S |
| Диапазон чувствительности в мм (дюймах) | | | | | |
| Техническое описание магнита | | | | | |
Документы для просмотра/загрузки
Обзор серии
The FS-GM Series Proximity Switch (M18 UNF Thread) is highly versatile and can be used in a multitude of applications where LED indication a reliable signal is required. Utilising proven magnetic technology enables them to sense ferrous material, such as carbon steel or stainless steel (17/4 or 400 series) at up to 2.5mm (0.1"). Volt free SPCO/SPDT (Form C) contacts as standard with the ability to use as Normally Open or Normally Closed devices. Options are available with Red and Green LEDs. They are able to handle supply voltages from 24VDC to 120VAC. The minimum supply current of of 50mA is recommended to ensure maximum brightness of the LEDs (although the switch will continue to function satisfactorily at lower currents), and the unit is able to handle a maximum supply current of 250mA.
The FS-GM Series is available hardwired or with V2 or V3 Mini-Change Quick Disconnect connectors.
На серию FS-GM распространяются следующие сертификаты по опасным зонам.
| | |
| --- | --- |
| Non-Incendive: | UL/CSA (Class I, II & III, Div2) |
| Искренне безопасно: | IECEx & ATEX Ex ia (Зона 0 и Зона 20) ¦ UL/CSA IS (Зона 0) |
The FS-GM series proximity switches meet the requirements of IEC 61508:2010 Routes 1H & 1S with Systematic Capability (SC3) as an element/subsystem, and are suitable for use in safety-related systems performing safety functions up to and including SIL 2 with HFT=0 (1oo1) and SIL 3 with HFT =1 (1oo2).
Фор-фактор

Цилиндрический со светодиодной индикацией

Материал корпуса

Нержавеющая сталь 316L

Схема расположения контактов

SPCO / SPDT (форма С)

Материал контактов

Палладий-Серебро

Макс. ток

250мА

Вход в Кабелепровод

М20 х 1,5

Прекращение сроков действия

С кабельным подключением

Класс температуры (рейтинг Т)

T6

Рабочая температура

от -40°C до +60°C / от -40°F до +140°F

Класс давления чувствительной поверхности

2000psi / 138 бар

Охрана окружающей среды

IP 66, 67 & 68 (24hrs at 30m)/ NEMA 4, 4X, 6 & 6P

Категория безопасности

SIL 2 / SC3

Монтажная резьба

M18x1.0 (52.56 mm / 2.07" long) c/w 2 x locknuts

Диапазон чувствительности с применением магнита

<12mm (0.47")

Диапазон (цель черных металлов)

2.5mm|0.10"

Воспроизводимость

Ок. 0,05 мм (0,002 дюйма)

Время отклика

8 мс

Дифференциал / гистерезис

< 0.51mm (0.020")
Сертификация
Узел газообработки
Класс температуры
соблюдение требований
Номер сертификата (нажмите для загрузки)
Уровень целостности безопасности (SIL) 
Н/Д
Н/Д
IEC 61508:2010; SC3 ¦ SIL 2 с HFT=0 (1oo1) и SIL 3 с HFT=1 (1oo2).

FSP18015
Все наши изделия также доступны в вариантах для обычных зон / общего промышленного назначения.
Выберите тип сертификации и концепцию резервирования, подходящие для конкретных требований, из конструктора номера детали ниже