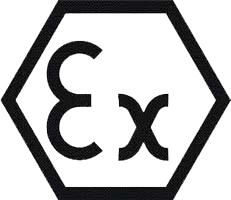 ATEX (Atmosphere Explosive) is mandatory legislation from July 1st 2003 covering electrical, non-electrical and protective safety systems used to prevent or limit the effects of an explosion caused by the ignition of a gas or dust explosive atmosphere.
There are nine types of protection concepts currently recognised for electrical equipment, all of which are supported by the "General Requirements" given in EN-IEC 60079-0. One such concept is "Flameproof" or "Explosion proof" which is supported by the requirements within EN-IEC 60079-1. This concept may also be referred to as EEx d, Ex d, Ex db or AEx d.
The "Flameproof" Ex d concept is simple: the equipment is contained within an enclosure which will withstand an internal explosion of a flammable gas or vapour that may enter it, without suffering damage and without communicating the internal explosion to the external explosive atmosphere, through any joints or structural openings in the enclosure. Equipment designed to this concept is suitable for use in "Zone 1" and "Zone 2" classified hazardous areas.
Ex d vs. Ex db differences:
Product Series
Gas Group
Temp Rating
Compliance
Certificate No. (Click to download)
IIC / IIIC
T4 / T6
EN IEC 60079-0: 2018
EN 60079-1: 2014
EN 60079-31: 2014

Baseefa14ATEX0119X
IIC / IIIC
T4 / T6
EN IEC 60079-0: 2018
EN 60079-1: 2014
EN 60079-31: 2014

Baseefa14ATEX0119X
IIC / IIIC
T4 / T6
EN IEC 60079-0: 2018
EN 60079-1: 2014
EN 60079-31: 2014
IIC / IIIC
T4 / T6
EN IEC 60079-0: 2018
EN 60079-1: 2014
EN 60079-31: 2014
IIC / IIIC
T4 / T6
EN IEC 60079-0: 2018
EN 60079-1: 2014
EN 60079-31: 2014
IIC / IIIC
T4 / T6
EN IEC 60079-0: 2018
EN 60079-1: 2014
EN 60079-26: 2015
EN 60079-31: 2014
EN ISO 80079-36: 2016

Baseefa16ATEX0049X
IIC / IIIC
T4 / T6
EN 60079-0: 2012+A I I: 2013
EN 60079-1: 2014
EN 60079-26: 2015
EN 60079-31: 2014
EN13463-1: 2009

Baseefa16ATEX0049X
Wireable:
VSE, VSE-A, VSE-B, VSE-C, VSE-E
IIC / IIIC
T4 / T6
EN IEC 60079-0: 2018
EN 60079-1: 2014
EN 60079-31: 2014

Baseefa15ATEX0172X-1
Wireable:
JB-1, JB-100, JB-2, JB-200, JB-300
IIC / IIIC
T4 / T6
EN IEC 60079-0: 2018
EN 60079-1: 2014
EN 60079-31: 2014

Baseefa14ATEX0120X